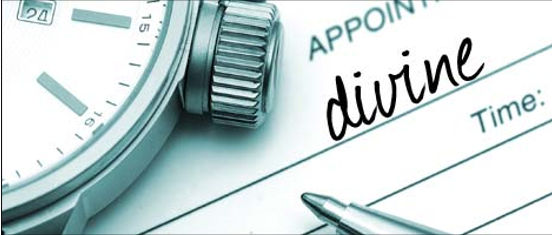 Divine Appointments
Have you ever had a "divine appointment"? I believe I have…, many times. The Dictionary of Christianese 1 describes a divine appointment as "An apparently coincidental encounter or event that has actually been caused by God for some specific purpose. This purpose may be obvious during the encounter, or the purpose may become apparent only some time later." Let me share with you what I think was a divine appointment.
As you may know, every August about 15-20 bikers, mostly from the Green Bay Church, meet in the parking lot of the church early Sabbath morning and ride their motorcycles together up to Sturgeon Bay. It's pretty cool riding in such a large group, and we have a great time. Our plan, as usual, was to travel to Sturgeon Bay, and get there in time to participate in the Sabbath School and worship service. We always bring lots of food with us and enjoy the fellowship meal with the members there. We love to get together with our brothers and sisters! After the potluck, we always go on a nice ride on the winding roads along the lake.
This year, I was riding a Harley I had borrowed from a friend. As we left the church parking lot, I was following the bike ahead of me, about 10 bikes behind the leader. We wound our way through the streets of Green Bay and onto Hwy. 43, heading north and across the Leo Frigo Bridge. The traffic was heavy; I found myself behind what surely must have been the slowest truck in Green Bay. Soon I noticed that I couldn't see my fellow bikers ahead of me anymore.
To make a long story short, I got separated from the group. So I decided to take the route we've taken in the past. Well, apparently I missed the memo that the group was taking another, more scenic route this year. Needless to say, I found myself traveling to Sturgeon Bay alone, feeling kind of lonesome and wondering why I bothered to take the motorcycle if I was traveling by myself. But I decided to make the best of it and enjoy myself. I thought, at least we'll meet up at the gas station just outside Sturgeon Bay. Did I tell you that the group was taking a different route this year?
I pulled into a Shell station and waited, pointing my bike south to make sure I'd see our group coming down the road. Well, I waited for about ten minutes, beginning to feel a little foolish at this point for getting separated from my group, when a couple of men in a large Chevy pulled into the lot. As the car passed in front of me, the guy in the passenger side leaned out his window and said, "Nice bike!" As his friend was putting gas in the car, the man who had shouted to me looked over at the bike a couple of times. After a minute or two, he came over to say "Hi!" and asked me about the bike.
We talked about bikes for a while and then the conversation shifted to where we were from. He said he lived in Sturgeon Bay and worked down at the shipyard. I told him I was a pastor who had gotten separated from my "flock," and I was waiting for them to catch up. When I told him I was a pastor, he asked me, "Which church?" "Have you ever heard of Seventh-day Adventists?" I replied, and he responded with "I think so."
His interest in my church and the way he talked encouraged me to ask him if he was a Christian, to which he replied, "Yes." So we started talking about our faith in Christ. He ultimately asked where my church was located, indicating that he might stop by the church sometime, asking when I would be there. I told him about how friendly the church was and the name of the elder, David Rawls. "You'd really like him!" I said. We shook hands, and he was gone. It was getting late so I decided I'd better get to the church, even though I hadn't met up with my flock yet. When I got to the church, there they were, having just arrived.
I share this story with you to make a couple of simple points. I believe this was a divine appointment. Every morning I pray that God will lead me that day to someone to whom I can be a blessing and, if it's His leading, to plant a seed for Him. I have no idea if my new friend will show up at the Sturgeon Bay Church – I'm not even sure if that was the most important thing. Whatever the plan was, I'm trusting God used me to make a good impression on him about Seventh-day Adventist Christians. I know we encouraged each other and that was a blessing!
So often we have our plans but, when we ask God to lead us, He may decide to change the plan for that day because He has an errand He would like us to go on. I want to be open each day to willingly allow God to change my plans if He chooses
You never know when God has a divine appointment planned for you. Psalm 37:23 says, "The steps of a righteous man are ordered by the Lord." After years of walking with God, I can tell you that seeing God set up these "divine appointments" is a joy beyond compare.